A brake band is a band of friction material (such as ceramic, leather, or metal) that tightens around a rotating shaft or drum in order to stop it from rotating further. Brake bands may serve as primary braking systems or they may be occasionally incorporated as backup brakes for use if the primary braking system fails. Brake bands are often referred to as brake pads. Brake bands are used in automobiles; they are also employed in bicycle braking systems, chainsaws, and winch drums. Read More…
Brake Band
Brake bands are used in vehicles and engines to aid in creating friction which is used to slow down the movement in the vehicle or engine. Also known as brake pads, brake bands are strips of friction material, such as ceramic material, leather or metal which are tightened concentrically around a spinning shaft or drum when the brake is activated. The friction is caused by the increased tightening of the band.
Regardless of whether they are primary or secondary brake materials, they must withstand a significant level of tension and stress throughout the braking process. As a result, the materials utilized to make brake bands must be robust and long-lasting. Bands can be wrapped either once or twice around the drum. In order to obtain the same stopping power as a single band, double-wrapped bands require less hydraulic pressure and have a greater gripping force. A space develops between the band and drum when these bands deteriorate. The transmission slips as a result of this expanding gap.
How Brake Bands Work
The brake band of an automatic transmission is required to momentarily obstruct the planetary gear components. This component prevents the solar gear, or ring, from spinning or locks it. A hydraulic unit manages its operation. The band is attached to the gearbox casing; one end of the band is attached to the casing, while the other end is connected to a servo unit's running piston. The operation of the drum half of the clutch pack, which includes the planetary gear system, is directly impacted by changes in the band's state of position. An automatic transmission shifts gears in accordance with the RPM rate in this manner.
The materials utilized to make brake bands must be robust and long-lasting. Metal with an organic friction compound lining is the core design of brake bands. Cast iron, ductile iron, or rolled steel can be used to make them. A typical brake band is formed of steel with a friction-coated inner surface. It is wrapped around an engine component in motion, and as the brake is applied, the band is tightened until the engine component has stopped or slowed down.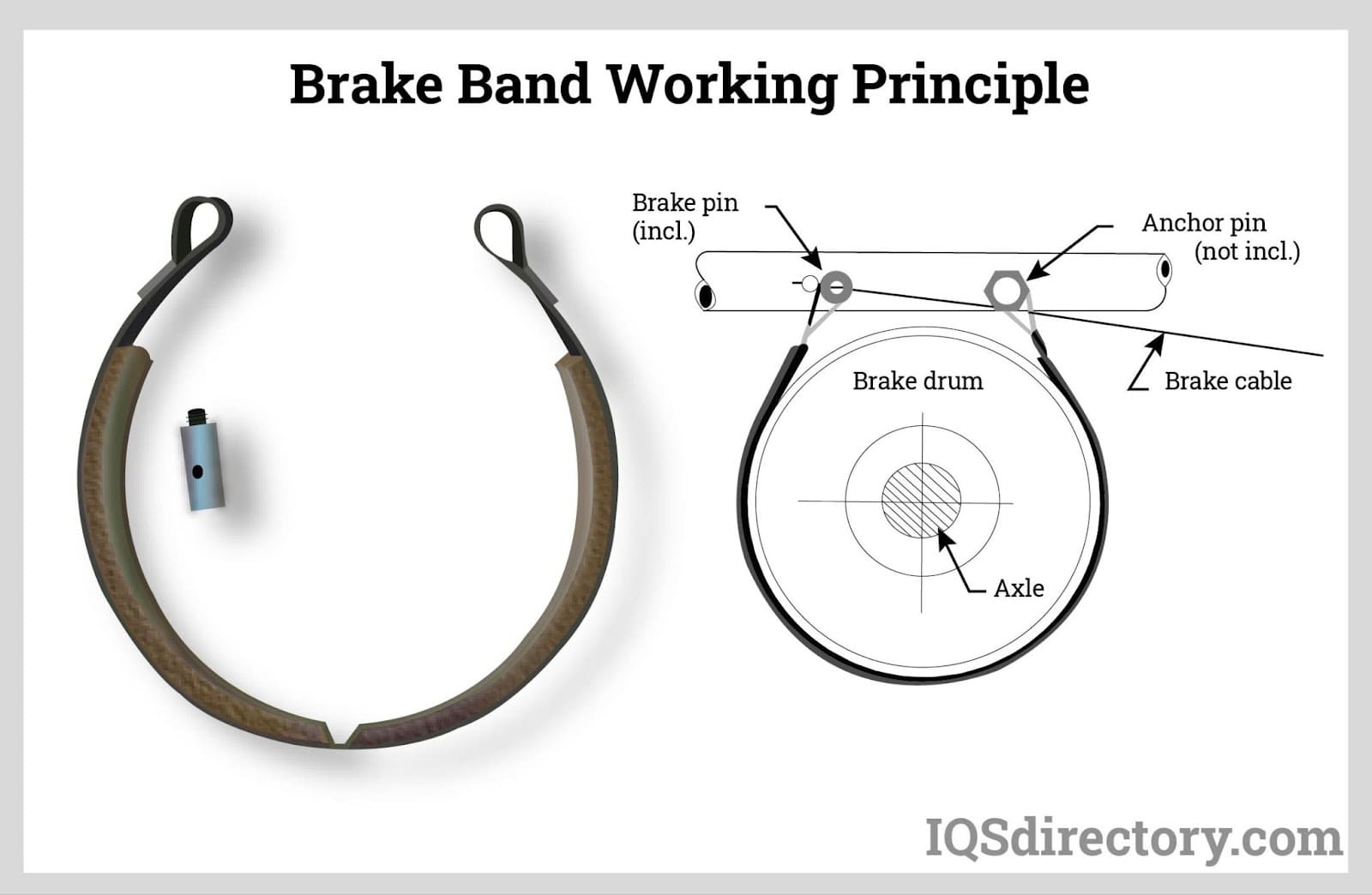 Advantages of Brake Bands
The straightforward design of a band brake is one of its main advantages. A band brake assembly is simple to maintain, has fewer moving parts and can function correctly for many years without experiencing any problems.
There is no chance for any pulling or grabbing that would obstruct the braking action as long as the drum or cylinder utilized in the design is kept clean and free of rust.
The production of these mechanisms is relatively inexpensive.
Instead of being an internal component of the hub like most drum brakes, a band brake can be used with any hub that it matches.
Disadvantages of Brake Bands
When the drum or cylinder is exposed to moisture, such as when driving during rain or snow, the brake is less likely to function effectively. In situations like this, the band or belt is prone to slip, slowing or completely eliminating the braking action.
High temperatures can also affect how well the brake works, making it challenging to safely stop an activity in its entirety. A vehicle has a lot of kinetic energy when it is moving at high speeds. That kinetic energy needs to be changed into a new kind of energy, in this case thermal energy, in order to slow it down. However, if the temperatures in the braking system are too high, they could become ineffective and limit the lifespan of the brake pads and discs, costing customers money for replacements earlier and more frequently than necessary.
Applications of Brake Bands
Even with the band brake's potential drawbacks, a backup braking system for a primary system may be built. In the event that the primary system becomes inoperable for any reason, the backup braking mechanism can typically be used manually.
Brake bands, which are frequently seen in marine and agricultural equipment, cranes, and automobiles, are also employed in bicycle braking systems, chainsaws, and winch drums. They can be primary or secondary brake materials, but in either case, sufficient tension and stress must be maintained throughout the braking operation.
Choosing the Right Brake Bands Manufacturer
To make sure you have the most positive outcome when purchasing Brake Bands from a Brake Bands Manufacturer, it is important to compare at least 5 or 6 Manufacturers using our list of Brake Bands companies. Each Brake Bands Company has a business profile page that highlights their areas of experience and capabilities and a contact form to directly communicate with the manufacturer for more information or request a quote. Review each Brake Bands company website using our proprietary website previewer to get an idea of what each company specializes in, and then use our simple RFQ form to contact multiple Brake Bands businesses with the same form.
Brake Bands Informational Video